The Latest from The Kennedy Forum
We've been working hard to help ensure more Americans are able to access mental health and addiction care—during and after the COVID-19 pandemic. Below is a list of recent activity.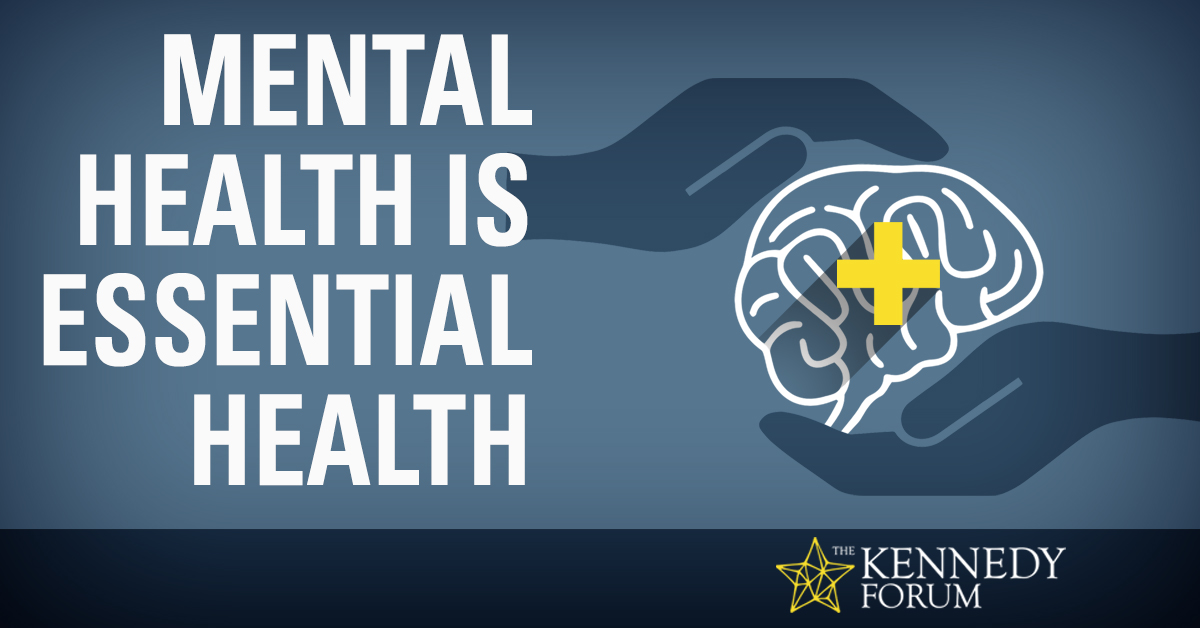 Image from 2020 Mental Health Month campaign - more below.
As part of the Mental Health Liaison Group, The Kennedy Forum drafted a letter to Congressional leaders on May 6 calling for $38.5 billion in emergency assistance for mental health and addiction treatment providers, at least $10 billion in dedicated Mental Health and Substance Use Disorder (MH/SUD) emergency funding to states, mandatory telehealth coverage in ERISA plans, and other specific actions. Read the letter here.
The Centers for Medicare & Medicaid Services (CMS) recently issued an interim final rule, which includes increased reimbursement and flexibility to bill for additional Medicare audio-only telehealth services. The Kennedy Forum has been actively urging CMS to take this action. Read our recent joint letter to Secretary Azar.
The Kennedy Forum founder Patrick J. Kennedy outlined the need for a new U.S. Recovery Corps to help facilitate connections to mental health and addiction care in light of COVID-19. Read more here.
On May 13, the California Senate Health Committee passed Senate Bill 855, a bill sponsored by The Kennedy Forum and Steinberg Institute, which will hold health insurers accountable for covering all medically necessary mental health and addiction care. As more Californians seek help in the wake of COVID-19, SB 855 will ensure that insurers cannot discriminate against those with mental health and substance use disorders. As Patrick J. Kennedy said, "This is a medical civil rights bill." We applaud Senator Wiener for championing this critical piece of legislation.
On May 14, twenty groups representing millions of Americans with pre-existing conditions—including The Kennedy Forum—
filed an amicus curiae ("friend-of-the-court") brief with the U.S. Supreme Court in the case California v. Texas
(previously Texas v. United States), citing the devastating impact patients would face should the court rule to invalidate the Affordable Care Act (ACA).
Read more here
.
The Kennedy Forum launched a special social media campaign for Mental Health Awareness Month to be shared on Facebook, Twitter, and Instagram. Explore here.
The Kennedy Forum also created a COVID-19 Mental Health Resources section on its website containing links to reputable content from partner organizations. Explore here.

On May 22 at 12 pm ET, Patrick will be a featured speaker during the Never Alone Global Mental Health Summit.
Other speakers include Deepak Chopra, Arianna Huffington, Mariel Hemingway, Peter Coyote, Don Miguel Ruiz, Wim Hof, Dan Siegel, and Rhonda Magee.
Learn more here
.
On May 28, Mental Health for US, a nonpartisan educational initiative co-chaired by Patrick J. Kennedy, will hold a webinar with the National Association of Social Workers about the importance of policymakers and candidates for public office giving mental health and addiction the attention they deserve. Learn more and register here.
On June 17, Patrick will be a keynote speaker at the inaugural Behavioral Health Tech Summit focusing on digital innovations in light of COVID-19. Proceeds from the Summit will go to the National Council's COVID-19 behavioral health provider relief fund. Find details here.
On April 28, the National Action Alliance for Suicide Prevention launched its Mental Health & Suicide Prevention National Response to COVID-19. Patrick is serving as co-chair, along with Joshua Gordon, MD, PhD, director of the National Institute of Mental Health (NIMH). Read more here.
On April 30, the Bipartisan Policy Center (PBC) launched a new Behavioral Health Integration Task Force to improve the integration of primary and behavioral health care to achieve better health outcomes and reduce costs. The task force also released recommendations to quickly address the urgent need to access behavioral health care as our nation faces the COVID-19 pandemic. Patrick serves as co-chair, along with former U.S. Sen. John E. Sununu; Sheila Burke, fellow, BPC; strategic advisor, Baker Donelson; and Richard Frank, professor of health policy, Harvard University.
Read more here
.
Patrick is also serving on the advisory board of
Inseparable
, a new nonpartisan movement launched on May 19 to drive political change around mental health and addiction.
Read more here
.
Patrick was recently interviewed on MSNBC, PBS Newshour, and SiriusXM Doctor Radio about mental health and addiction implications of the pandemic, as well as necessary government action.
He also co-authored an op-ed titled, "Mental Health and Addiction Crises Will Worsen During Pandemic Without Better Policy" with Shawn Coughlin, president and CEO of the National Association for Behavioral Healthcare. Read the full op-ed here.
Additionally, Patrick spoke to the AP about the White House's PREVENTS effort and how advocates would like to see more spending on a coordinated effort to reduce deaths of despair. Read the article here.
On April 7, Independent Lens/PBS brought together mental health leaders and advocates for a special Facebook Live discussion about managing mental health in the time of COVID-19 featuring Psychiatrist, Author, and Director of the documentary Bedlam Dr. Kenneth Paul Rosenberg; former U.S. Rep and founder of The Kennedy Forum Patrick J. Kennedy; First Lady of NYC Chirlane McCray; and Co-founder and president of Born This Way Foundation Cynthia Germanotta. Watch Bedlam, which chronicles personal, poignant stories of those suffering from mental illness, here.
On April 22, Patrick participated in a virtual panel discussion titled "Virtual Models of Care: Behavioral Health in a Time of Social Isolation" presented by the Nashville Health Care Council.
Learn more here
.
Patrick delivered keynote remarks at the Minnesota Health Action Group's virtual 2020 Employer Leadership Summit on April 29 where employers, health care experts, and health care companies joined to discuss today's most pressing health care issues and the value of investing in workplace and community mental health. Watch the video here.
On May 9, Patrick participated in a panel titled "Cultural Perspectives on Mental Health" during the virtual 320 Festival.
Watch the panel discussion here, starting at timestamp 2:35:20.
As a result of the panel, The Kennedy Forum is updating its Parity Registry website to include a new complaint form for people who are unable to find in-network culturally competent care. The data will eventually be shared with insurance commissioners to spark change.
Patrick was recently interviewed on
One Mind's
popular
"Brain Waves" webcast
to discuss policy challenges in treating depression and the
"McKinsey on Healthcare"
podcast
to discuss changing views on mental health and substance use disorders.
The Kennedy Forum recently announced that its 2020 Annual Meeting, originally scheduled for Oct. 6, will be postponed until early 2021 (final date to be determined). The 2021 event, "Our Words Matter: Harnessing the Power of Communications to Advance Mental Health Equity," will unite leaders in communications, media, advocacy, and activism to address the unconscious, implicit bias that fuels discrimination against those living with mental health and substance use disorders. To set the stage, in the next few months, The Kennedy Forum will host a series of virtual conversations about the complex role communication plays in the fight for mental health equity. Details coming soon.
Please be well and stay safe during these challenging times. If our team may be helpful in any way, please do not hesitate to be in touch.